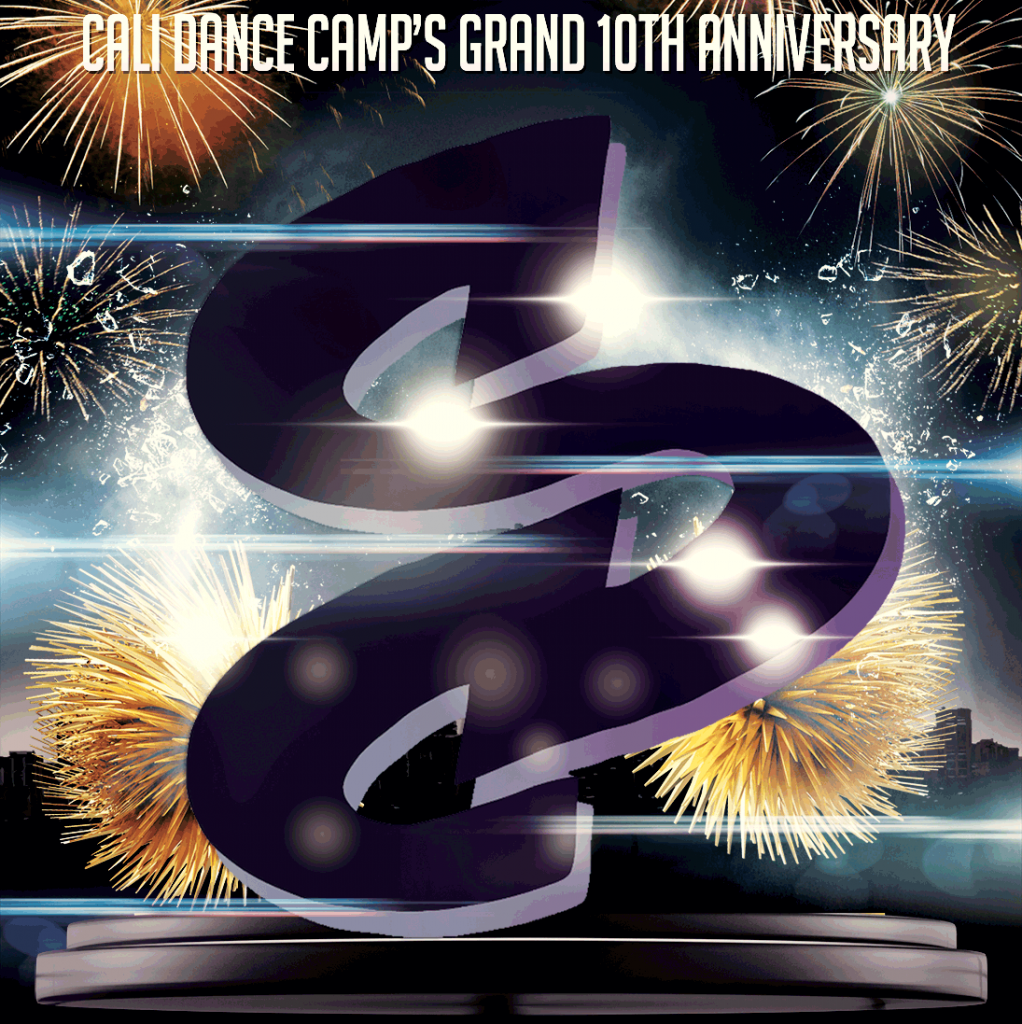 Join us at Cali Dance Camp in Los Angeles for Dancers of All Shapes, Ages, Sizes and Skill-Levels on the weekend of September 29th, 30th & October 1st, 2017.
Cali Dance Camp is an affordable weekend-long dance camp at an exclusive campground that's nestled between the world famous hollywood sign and the griffith park observatory. Don't miss this epic event which only takes place once every year!  Dance Engagements is a federally recognized 501(c)3 non-profit organization created with love for dancers, by dancers in Los Angeles.
This historic campground was designed to provide youth in the Los Angeles area with a recreational camp close to the city, in a mountain-like atmosphere. At C.D.C., campers will intake various unique dance classes while experiencing and exercising hands-on with self-discipline, teamwork, social and cognitive building skills as well as family values.  We achieve this by engaging in different group based activities such as hike to the "Batcave" from the 1960s TV Show "Batman", karaoke, swimming, storytelling, movie night, camp fire-ring, Saturday night parties with in-house DJ, self-improvement workshops and much more.
Towards the end of our camp we host an award ceremony to honor those who have not only excelled but have also shown true dedication and hard work throughout the course of the camp. We encourage and welcome all parents, guardians and friends to join us and support your loved ones at the ceremony.  #CaliDanceCamp
CDC 2017 PACKAGES & PRICING INFO
1-DAY ACCESS ONLY
Hours: Sat: 9am – 7pm
Classes: Preferred access to  ALL dance  classes
Meals: Breakfast, Lunch and Snacks
Features: Group Activities, Performances, & Awards and Ceremony
Official CDC 2017 Camp Shirt
Hours: Sat: 9am – 7pm
Classes: Preferred access to ALL dance classes
Hours: Sat: 9am – 6pm
Classes: Includes entry to ONE dance class
FULL 2-DAY ACCESS
Overnight Accommodations: 3 Days / 2 Nights Stay at a Cabin
Amenities: Bunk Bed + Indoor Bathrooms w/ Hot & Cold Showers
Classes: VIP access to ALL dance classes
Meals: Breakfasts, Lunches & Dinners cooked by a Chef (6) + Snacks
Features: Group Activities, Performances & VIP Seating at Award-Ceremony
Official CDC 2017 Camp Shirt
VIP Bonus: 1 Additional Free Spectator Pass for Award Ceremony
Accommodations: 3 Days / 2 Nights Stay at a Cabin
Amenities: Bunk Bed + Indoor Bathrooms w/ Hot & Cold Showers
Meals: Breakfasts, Lunches & Dinners cooked by a Chef (6)
Features: Full access as a Spectator-only
Meals: Breakfasts (2) and Lunch (1) + Snacks
Features: All day spectator access on Sat. & Sunday
OFFICIAL CALI DANCE CAMP 2017 SCHEDULE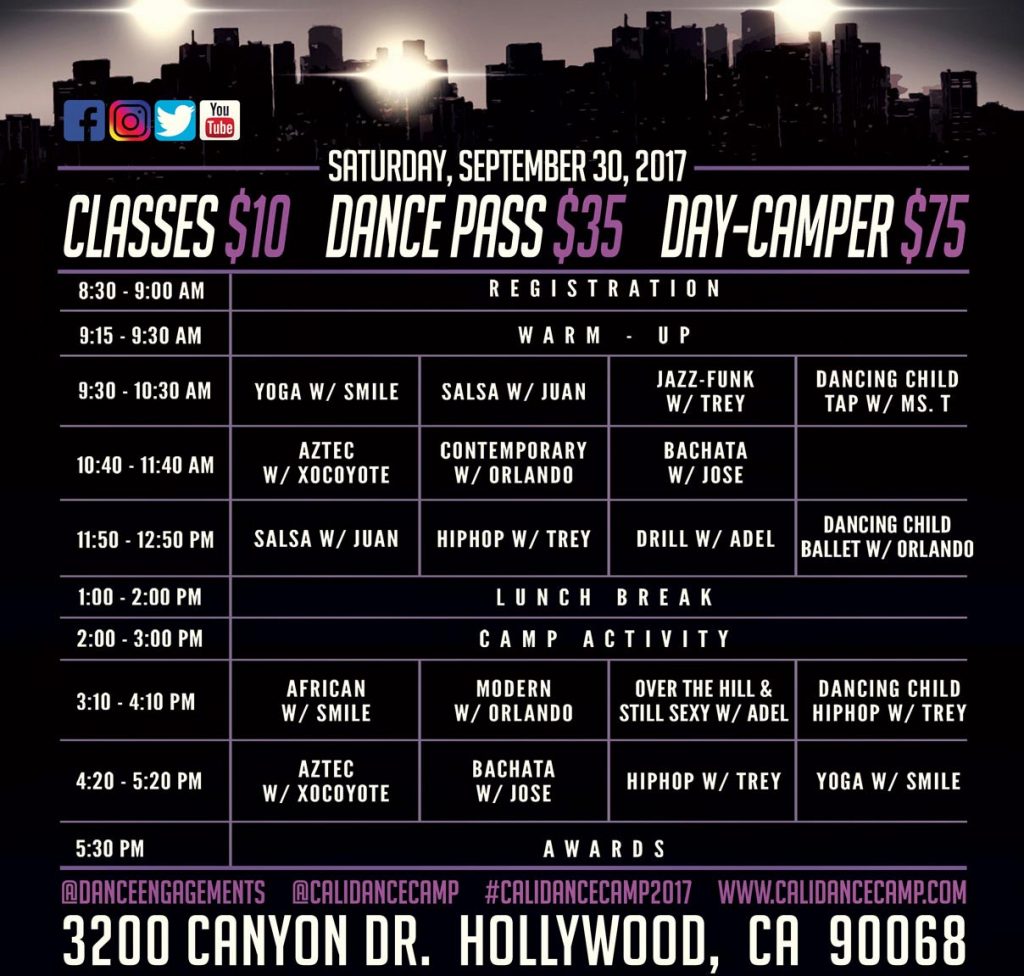 WHERE IS CAMP LOCATED?
Camp Hollywoodland is located at 3200 Canyon Dr. Hollywood, CA 90068 — Click Here for Directions
VOTE FOR YOUR CLASSES AT CDC 2017
We first began using the "Top 6 Choices" voting poll for the 1st ever, CDC in 2007 which was hosted at Big Bear Lake and have used it to determine our class scheduling ever since! We feel that by taking our participants' opinions into consideration, it makes camp a more exclusive, fun and customized experience. It is a proven success with every event we host and defines us a unique and unmatched dance company. CLICK HERE TO CAST YOUR VOTE
GO TO DANCE CAMP 2017 FOR FREE
Do You Want to Attend This Year's Summer Dance Camp, But Can't Afford To?  Hello, Cali Dance Camp hopefuls. As you all know, the Dance Engagements staff and crew are hosting another Dance Camp this year at the beautiful and historic Camp Hollywoodland, but unfortunately, some of you may not have the necessary resources and funds to attend this year's camp. Events like the huge luncheons, amazing and diverse dance lessons, award ceremony, Saturday-night's dance  party and more won't be enjoyed by those of you who we want to come. Well, we have some great ideas and options for you to try so that you can attend this fun and educational retreat without breaking your bank, or your back.  ASK US HOW TO GO TO CAMP FOR FREE!
Idea #1: Gourmet Caramel Apples
I know what you're thinking: Gourmet Candy Apples? Fortunately, we've secured products from a special provider so that you-can sell some tasty gourmet candy apples in enough quantities to pay your way to a spot in our Dance Camp. They are great value for the money, and practically sell themselves.
Idea #2: Gourmet Kettle-Corn Popcorn
Much like our previous idea, our friends at California Snack Foods have provided us with some delectable and affordable gourmet popcorn flavors that are sure to please. Simply sell as many of these bags as you can to help you afford a spot for camp. These bags of popcorn come ready to eat and the only popping that needs to be done is to pop one kernel in your mouth and enjoy!  The sizes are big and the prices are small.
Idea #3: Attend a Live Taping of a TV Show
This is one of the more fun options that you can choose to help raise funds for your awesome spot in our camp. At any number of studios, TV shows are being taped with a live studio audience, and you are that audience. With every taping that you attend, a donation in your name to Dance Engagements will be received, paying part or even all of your total reservation fee. Who doesn't like TV and Dancing?
Idea #4: Complete a Scratch-Off Donation Card
A Scratch-Off Donation Card is sort of like a bingo card for donations, and you can have anyone willing to donate to your spot scratch off a piece of the card. The rules are simple: find a willing person, have them scratch off a piece, and then they'll do what that piece says, which is usually giving a certain dollar amount. Completely scratch off a card to earn your spot for camp, and don't forget to thank those who helped you with your card.
Idea #5: Restaurant Fundraising
If you have a favorite restaurant that your friends, family, church or school go to, then this is the perfect idea for you. Fundraising at a restaurant can be the easiest and surest way to earn your spot for camp. Many, many restaurants offer this option, and it can be a great way to get in and start earning that money. Choose a restaurant everyone knows and loves, and you can say goodbye to work and hello to fun.
Idea #6: Come Up With Your Own
Much like dancing itself, the person has to work hard, be creative and imaginative in order to be good. So, like a great dancer, come up with your own moves and show us what you got. If you have an amazing idea for a fundraiser, go for it! Anything safe, fun and effective that  can help you achieve your goal and get you dancing is a good idea. Who knows, maybe your idea can be featured in next year's fundraising article!
Work Hard and Fast,  California Summer Dance Camp is Almost Here!  With only 2 weeks left and counting, Dance Camp is arriving soon. We want anyone and everyone who wants to have fun and learn some new dance moves to join us for a 3-day retreat of good food, good friends and good dance. So get in gear and get the ball rolling so you can be a part of the festivities and make friends and special memories that will last you a lifetime.
Our mission is to Engage and Educate Dancers of ALL Ages, Shapes, & Sizes in the Arts of Cultural Dances from Around the World.
While promoting positive Physical Health, Community Outreach, Environmental Awareness and Self-Betterment.
Share this: