Your search for the best private dance lessons near me in Los Angeles ends with Dance Engagements.
Be ready to learn how to manipulate and move parts of your body you never even knew existed. Learn new skills, burn calories, and enjoy your one-of-a-kind dance lesson taught by Hollywood-trained professionals. Our master dance teachers are passionate, patient, and determined to awaken the dancer in all of us! For more information about our private dance lessons in Los Angeles for adults and children, don't hesitate to get in touch with us.
A private dance teacher can help beginners learn the basics, experienced dancers level up, or couples enjoy an intimate moment. Whatever the occasion is, be it a birthday party, private event, prom, wedding, quinceanera/sweet 16, corporate celebrations, or anything in between, If you're looking for the best dance classes "near me" in Los Angeles, you've come to the right place.
We teach various types of dances from around the globe:
Lyrical
Modern
Hip-Hop
Contemporary
Wedding-Dances
Bridesmaid Dances
Swing
Jazz
Tap
African
Zumba
Merengue
Mother/Son & Father/Daughter
Salsa
Jazz
Cumbia
Bachata
Drill/Military
Ballroom
Private Dance Lessons Anywhere in Los Angeles
We personalize each dance lesson based on your individual needs, and goals, adjusting our teaching style to meet your ability, personality, and expectations. As a result, the learning process is thorough and rapid while remaining fun, easy, and comfortable. We teach private dance lessons one-on-one or in small groups and create choreography customized to students' likes or requests.
Private dance lessons are available at your home, workplace, school, local park, club, place of business, local community center, or dance studio. We've taught private dance classes across Southern California, including at prime establishments such as IDA Hollywood, The Millenium Dance Complex, the Debbie Reynold Dance Studio, Hollywood High School, and more.
Los Angeles Dance Lessons: A Better Way to Learn
Professional Dance Instructors
We guide you through every step of your journey. with top-rated instructors



Dance Lessons Designed for You
Your pace, your style. Lessons tailored to meet your needs



100% Satisfaction Guaranteed
Try out a lesson. We'll refund you if you aren't happy.
Is it possible to learn Dance online?
The answer is Yes! With the Covid-19 pandemic, we've had to adapt to change just like everyone else. We're happy to offer quality online instruction through our high-def, one-on-one online Zoom dance classes. Does your dream instructor live across the country? Not a problem. You can now meet your teacher online on your smartphone or through a webcam on your computer. There are no boundaries to learning!
What is the average cost of Dance lessons?
Learn how to dance with an experienced dance instructor, whether you're preparing for a wedding, special performance, quinceanera, sweet 16, bar-Mitzvah/bat-Mitzvah or want to meet new people. Lessons may be offered one-on-one to individuals, couples, or small groups. On average, our dance lessons range in price from $25 – $50 per hour.
Lessons are priced based on a variety of factors
Your teacher's experience

If you are taking your lessons at our studio, at home, online, outdoors, or in another location.

The frequency and duration of your lessons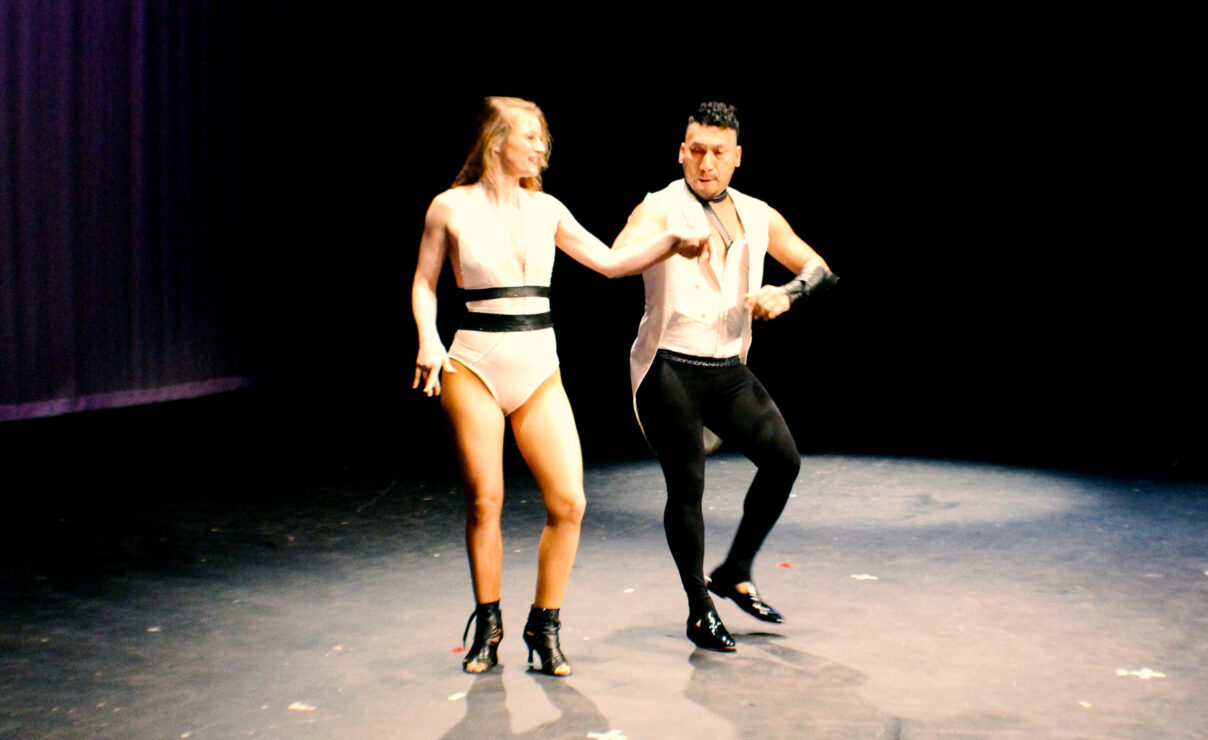 One-on-one instruction with a dance teacher is the most effective and efficient way to learn new dances or choreography. Lessons are tailored to your interests and goals. You will learn dance steps, lead and follow skills, and develop personal dance techniques.
We devote whatever time you need in each class, usually ranging from 1-3 hours, depending on your needs and goals. Please send us a message to schedule a free evaluation with a trained professional at your convenience anywhere in California or online viz Zoom.
Are you uncomfortable dancing in public?
Don't worry about impressing anyone. Just have fun, and we'll do the rest. We take the edge off and allow you to move at your own pace. Let our instructors make it easy while keeping it fun and light. We will have you dancing and laughing in no time!
The benefits of private dance lessons
One-to-one  —  Get one-on-one instruction from a dance instructor at your own pace.
Faster learning — With private lessons, you will progress faster and achieve higher goals in a shorter period.
Flexible scheduling — You can schedule your private lessons according to your schedule and availability.
No Partner, No Problem — Your instructor is the best partner you can have.
Customized training — Our instructors create a custom plan just for you.
Privacy — A chance to develop your own style and gain confidence.
Advanced Learning — With private lessons, students can explore refined dance techniques, more profound connectivity, and leading/following more profoundly than small groups.
Who Our Dance Instructors Are
Dance Engagements, Inc. is a world-renowned, nonprofit dance company based in Los Angeles, California. The Dance Engagements family believes in modeling and training the "whole" dancer in a hands-on environment, nurturing their needs, and encouraging self-betterment. Our not-for-profit dance company is composed of artists ranging from student dancers, world-class performers, distinguished laureates, lifelong educators, and master choreographers respected around the globe.
Our globally recognized Los Angeles dance instructors are not only award-winning and extremely talented performers, but more importantly, they love to teach and promote their passion for the art of dance. Dance Engagements offers customized tuition plans to suit each student's personal needs.
Make a move, and take the next step.
Want to try an introductory private lesson? Would you like more information? Need assistance making a reservation? It would be awesome to hear from you! We'd love to hear your availability and how you would like to be contacted.