Are you looking for the best "dance classes for teens in Los Angeles near me?" Well then, your search ends here!
We offer a mature learning environment for teens aged 12 to 17 of all skill levels, from beginner to advanced. Our dance classes for teens in Los Angeles provide students with a more in-depth look at the specifics of each dance form. Teen dancers will learn the specific skills, choreography, and history of each form, whether it is ballet, tap, hip-hop, jazz, modern, or musical theater. Student dancers will focus on developing fundamental dance knowledge into proficient technical skills. Whether they plan to enter the professional dance industry after middle school / high school or just want to stay fit and exercise, our teen dance classes can provide students with an experience that is just right for them!
JUMP TO: Dance Styles · F.A.Q · Location · Register
Dance Engagements is founded on child development principles and recognizes that each age group learns differently. We encourage, motivate, and educate to be healthy and physically active through our junior/teen dance program, which consists of eight (8) weeks of in-studio dance classes that comply with Covid protocols. Our junior/teen dance classes provide enjoyable, enriching experiences that help teenage dancers improve their technique and develop their artistic abilities while including the fundamentals of ballet, jazz, hip hop, creative movement, and cultural dances.
Why Take Our Teen Dance Lessons in Los Angeles?
We work with teen students of all abilities and tailor the lessons to the level and style of dance that you want to learn.
All the teen dance styles we teach in-person are also available online, and students can switch between in-person and online lessons anytime.
In-person lessons with our instructors can be easily reserved online. Schedule it for when it works best for you.
Our goal is to create happy, healthy dancers and people in general!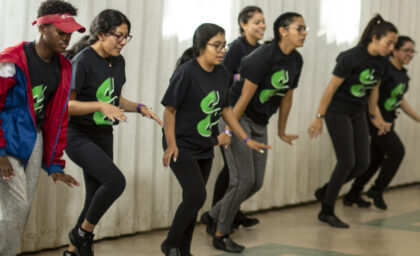 We take pride in creating a welcoming, friendly, non-competitive, encouraging, and fun environment that fosters development and high self-esteem. Our program assists dancers in discovering their natural body pathways and developing healthy patterns of movement that will keep your teen dancing for as long as they want! We encourage students to develop critical thinking skills by exploring the how and why of each new step.
Our Los Angeles teen dance classes are different! Younger and older students learn differently, which is why we've customized our dance classes for all age groups ranging from 12 to 17 years old. We expect teenagers to progress faster than our Little Feet and hold them to a higher standard of self-responsibility and accountability. There are no prerequisite classes or minimum class requirements because students are placed based on their age and ability.
A Glimpse into the World of Professional Dance
This is an excellent opportunity for dancers of all levels to train with some of the best choreographers in California who are world-renowned professional working dancers! We take pride in our talented teaching staff with extensive dance training and professional experience! From Broadway stars to international performers, our teachers provide our teen dance students with a firsthand look at the world of professional dance. We are passionate about creating space for a new generation of dancers to grow and strive to act as mentors for any young dancers interested in pursuing a career in dance after middle school or high school. All classes are filled on a first-come, first-served basis.
Styles Taught in Our Teen Dance Class Program
HIP-HOP — Our Hip Hop dance classes for teens in Los Angeles emphasize rhythm and coordination while encouraging individual style and freedom. Designed for the high-energy, intense, and accomplished dancer who is well-versed in movement vocabulary and has the ability to learn complicated dance combinations quickly. Popping, locking, and breaking, as well as street and funk, will be covered in these fast-paced, athletic, and energetic classes.
JAZZ — Develop a sense of rhythm and musicality while discovering the joy and self-expression found in our jazz class for teens! Jazz incorporates many styles and techniques from ethnic and contemporary dance. The class will progress through a warm-up, across-the-floors, and mini combinations to improve musicality, flexibility, and style. Learn current pop songs as well as classic Broadway hits. These classes are designed to introduce students to jazz history while improving self-confidence, increasing agility, and exposing them to various movement styles.
.
SALSA — We focus on the fundamentals of the dance to provide a thorough introduction to salsa. Our salsa dance classes in Los Angeles for teens include understanding the structure of the music so you can dance on time, the basic step, side step, back step, right turn, and the cross-body lead. It also teaches how to dance with proper posture, balance, and control. Once that foundation is established, classes will include additional solo footwork as additional partner work to apply the fundamental concepts to more complicated moves. These classes will help you enjoy the music, dance in unison with your partner, and learn something new every class.
TAP — A fun mix of Broadway and Rhythm styles will keep dancers excited and engaged every week. Classes emphasize the flow of movement by teaching students to find rhythms and beats in both music and their own bodies. The goal of each tap class is to improve the student's sound clarity, rhythm and musicality, timing, and phrasing. The class will progress through a warm-up, floor crossings, and mini combinations while fine-tuning rhythm skills, accents, and dance flow. Class exercises in a fun and nurturing environment will help build knee and ankle flexibility and improve movement speed.
BALLET — Ballet is the fundamental foundation of most dance styles. The class will emphasize proper technique, alignment, and terminology through barre, center, and across-the-floor work. Dancers will also improve their balance and poise. We welcome teen dancers in Los Angeles of all levels as we learn classical ballet vocabulary and build flexibility and strength in the legs, feet, and body core while improving balance!
MODERN — Students are encouraged to use movement as an expressive tool while developing strength, confidence, and creativity in Modern dance. Modern dance is a style that is free of the constraints of classical ballet and focuses on free interpretations derived from inner emotions. We focus on the fundamentals of technique and performance in the beginning levels and incorporate improvisation and longer, more complex combinations in the advanced levels. Modern dance is codified, meaning it has common movements set in a specific style, and they have specific names and expectations.
BACHATA — Bachata is a type of music known for its syncopated dance rhythm that originated in the Dominican Republic. As the class progresses, the instructor will introduce basic partner work combinations and cover the basic steps danced to this popular music.
CONTEMPORARY — Contemporary and lyrical dance styles have taken over the dance world. This wildly popular dance style elevates traditional ballet to a new level of expression and interpretation. Contemporary dance is not codified, and it includes a variety of styles. Contemporary is a type of show dance that focuses on non-choreographic movements influenced by compositional philosophy. It is expressive and can incorporate moves from other genres.
ACROBATIC GYMNASTICS — Acrobatic Gymnastics is an ancient activity emphasizing dance's combined beauty and acrobatics. The class will improve strength, flexibility, and stamina, resulting in a more powerful and enhanced dance performance.
MUSICAL THEATRE — Do you like musicals? Sweet! Then this is the class for you! Perfect for performers looking to improve their dance ability for school shows, community theatre auditions, extra dance training, or simply enjoying show tunes. The class will include jazz and tap and will help performers gain skills and confidence in musical theatre dance. Several combinations will be taught throughout the year, focusing on character and interpretation of some of your favorite stage and screen musicals.
ADVANCED TECHNIQUES — The class will concentrate on ballet/jazz barre techniques to improve center floor balance, control, flexibility, and strength. A great technique and endurance builder.
---
---
Online and In-Person Dance Classes in Los Angeles for Teens Near You
While we currently offer in-person lessons from our Los Angeles studio, we are excited to offer lessons to teens worldwide through our online dance lessons via Zoom.
Lessons are stress-free and designed to get you dancing quickly.
Lessons can be effective with as little as a few feet of danceable space, with or without a partner.
Our online dance lessons for teens cover the same topics as our in-studio lessons, but students can participate from the comfort of their own homes!
Our Zoom lessons can be recorded (with parental consent, of course!) and emailed to you so that you can review and practice between sessions.
Our Studio Location
We chose Stomping Ground LA as our dedicated location because they are a community-oriented safe space for developing, creating, and sharing the arts for professionals and organizations such as Dance Engagements.
Dance Studio Rules
No food or drinks (water only)
No street shoes on the dance floor.
Do not touch mirrors.
Must wear a face mask at all times in the studio.
Virtual Class Rules
Microphones must be off and cameras on.
Designate a space to dance.
If you get logged off, log back in.
Frequently Asked Questions About Our Dance Classes For Teens
What Are The Class Dates? The teen dance program starts Friday, May 5th, 2023 and runs all summerlong.
What Time Does Class Start? Classes start at 6:30 pm and end at 7:30 pm.
How Much Do The Dance Classes For Teens Near Me Cost?  Lessons are $10 per class for members and $15 per class for non-members of our annual jr./teens dance program.
What Is The Annual Membership Fee For The Teen Dance Program?  The annual one-time fee of $50 per student. Membership includes class discounts, sibling discounts, priority registration to all our events, classes, workshops, and camps, plus additional perks.
How Do I Enroll In Your Teen Dance Program?  Tuition is a non-refundable donation and must be paid before registering for classes. All donations can be made online through Paypal or on a mobile device through Venmo at (626) 644-9176. Please include the memo: Jr/Teen Dance Class.

FYI: Dance Engagements has never turned away anyone for lack of funds. Payment arrangements are available.

How Should I Dress For Dance Class? Girls/Boys should wear an All-Black top, stretchy bottoms, jazz shoes, and have their hair pulled-back in a bun.
How do I schedule an online dance lesson?  Our online booking system, which is accessible 24 hours a day, can be used to schedule both in-person and virtual lessons. Our booking system reflects the studio's current availability, hours of operation, and available staff members. Don't be concerned about selecting an instructor if multiple staff members are available.
Will I need any special equipment?  In-person lessons do not require any special equipment other than appropriate soft-soled dance shoes. Online dance classes for teens require using an internet-connected device capable of running Zoom with audio and video. Nothing else is needed!
What can I expect to learn during the online lesson?  When you book a lesson, you will be asked to leave any comments for your instructor. If you request a specific dance style, goal, or song, we will design your first lesson around it. Otherwise, we will assume that your first lesson is a beginner-level lesson and will come prepared to teach you several basic dance steps in some popular, easier dance styles. However, from there, we can explore other dance styles that might interest you.
Do you need my payment information to schedule a lesson?  Payment information is required to schedule a lesson, but you will not be charged until the lesson.
What is your refund policy?  While we do not offer refunds for dance lessons, we offer free rescheduling up to 24 hours before the scheduled class.
Should we practice in between lessons?  The answer is… maybe?!? Our students all take dance lessons for a variety of reasons. Some of our students are competitive dancers who train regularly, while others enjoy making time to dance with their significant other. As a result, the amount of time you need to dedicate between lessons depends entirely on you and your goals. Practicing between classes is

the most effective way

to maximize the value of your lessons, which is why we make recordings of each lesson available. While we will always take the time to explain any topics you may have forgotten from previous lessons, practicing between lessons will ensure that we continue progressing.
How many dance lessons should my teenager take?  This question is better answered after we've talked about your goals and why you're taking dance lessons. As a result, we don't require any long-term contracts or commitments when scheduling your first lesson. We have package rates available for individuals interested in taking multiple lessons. However, it would be unfair to our students to suggest those options before they've had a chance to take a lesson and decide whether our online dance classes are right for them.
Can we speak with someone before booking?  Of course! Contact our Los Angeles dance company via our website's contact form. If you have questions about our lessons, the culture and atmosphere at the studio, what you should expect to learn, or how we can work with you to achieve your goals, please do not hesitate to contact us. Additionally, parents are welcome to visit the dance studio as part of a consultation or any regularly scheduled lesson dance class.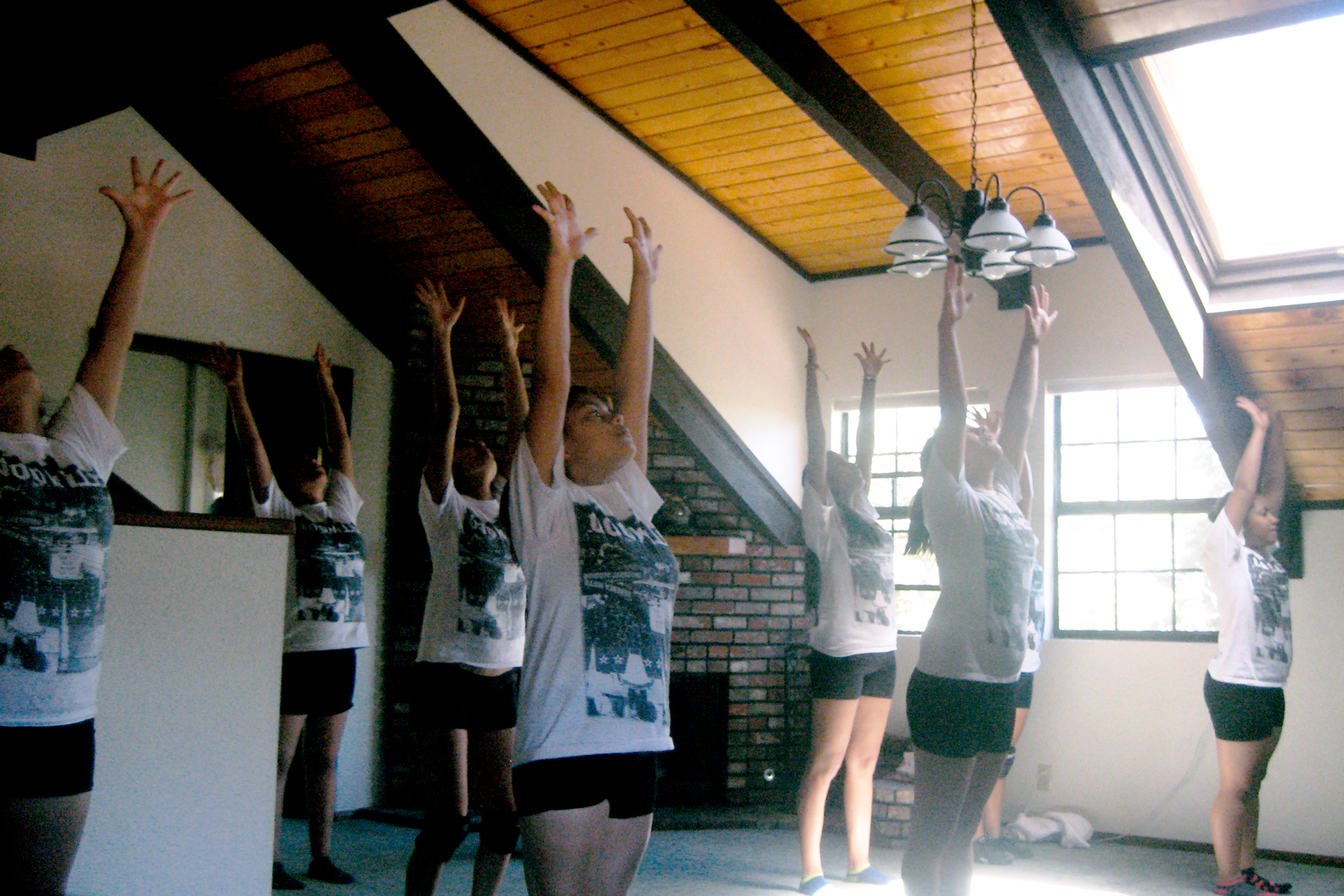 Hire a Dance Company In Los Angeles You Can Trust Your Teens With
Dance Engagements is a federally-recognized nonprofit dance company that choreographs professional, creative, fun, and affordable dance lessons for teens in L.A. Go ahead and REACH OUT to one of our dance instructors for more information or to schedule a free consultation. We're happy to answer any questions you may have! Our nationally-recognized dance instructors offer unique, affordable prices, making classes accessible to any teenager across Los Angeles County, regardless of economic status.
Next Steps: Register Your Teenager For Our Teen Dance Program
Thank you for taking an interest in the Dance Engagements "J/T Program" dance classes for teenagers in Los Angeles. We look forward to working & creating unforgettable dance experiences with you and your youngster.
To proceed, we will need a signed "Class Agreement." This agreement will allow your teen to participate in the "JT" dance program and future performing opportunities. Both class and studio waivers must be completed and turned in on or before the first day of class.