Quinceañera Choreography Services and Dance Lessons in Los Angeles
Your Quinceañera or Sweet Sixteen can be truly magical if you have the right choreographer and instruction! Our dance instructors have decades of experience choreographing quinceañeras in Los Angeles and across all of Southern California. We're ready to help your event be one of a kind and make you the star of the show!
Our quinceañera choreographers in Los Angeles have broad knowledge and experience in various dance styles, such as Bachata, Salsa, Hip Hop Reggaeton, Swing, Waltz, and Tango. We also teach other kinds of dance styles for quinceañeras, such as swing, hustle, foxtrot, and others.
Look great and give your guests a breathtaking dance performance.
Make your own schedule! Planned especially to make sure you are ready for your big day.
Choose up to five songs! We will cut and rearrange them to fit your quinceanera dance moves.
A video camera allows you to record your session and keep it for future reference and practice.
Quinceanera Service Request
You only turn 15 once and deserve to have the best Quinceañera choreographers in Los Angeles on your special day.
Dancing Engagements specializes in Quinceañera choreography services, Sweet-Sixteen choreography, and private dance lessons in Los Angeles. Our mission is to make your dream event memorable, and unique and leave a lasting impression on your guests. Our experienced dance teachers are creative professionals with extensive training in various dance styles, such as the Traditional Quinceañera Waltz (Vals), modern Waltz, Bachata, Merengue, Swing, Salsa, Zapateado, Merengue, or Cumbia.
Dance Engagements teaches beginner, intermediate, or advanced quinceañera dance classes depending on the group's skill levels. We have various dance packages that you can pick from, and we're happy to travel anywhere in Los Angeles or Southern California. In some cases, travel fees may apply.
FEEL FREE TO REACH OUT. We've got you covered whether you want a surprise dance or an elegant waltz. Packages are available for first dances, father-daughter dances, and chambelan dances. Quinceañera dance practices are held at your location.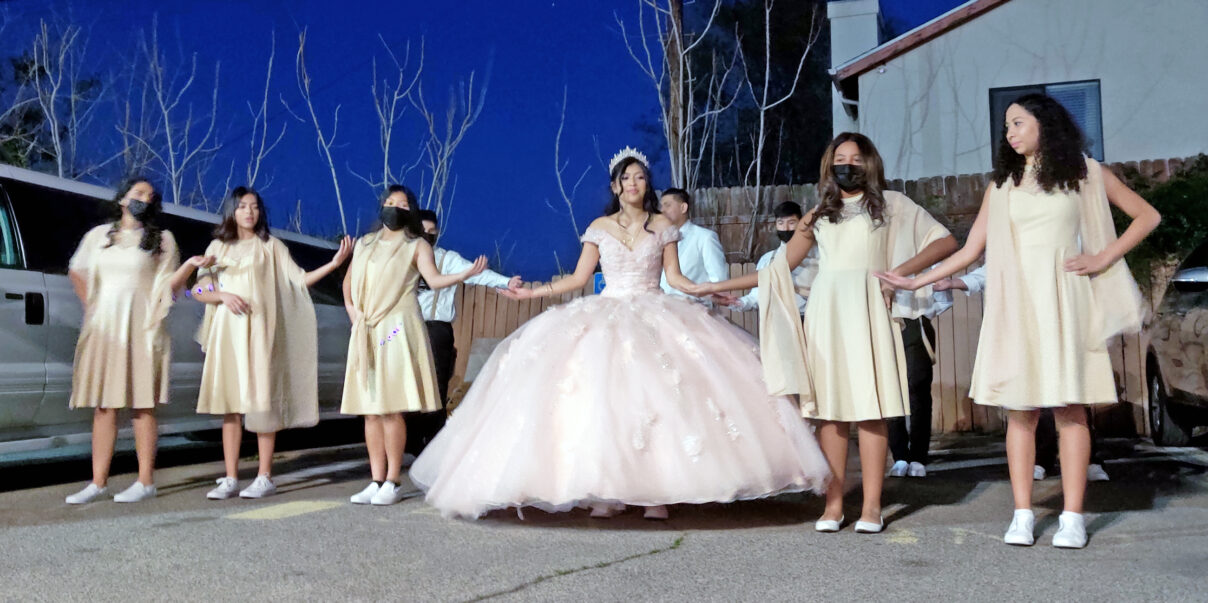 Looking for a "Los Angeles Quinceañera dance choreographer" near me? Your search ends here!
Depending on the student's experience level, the steps are taught to the Quinceañera and her "royal" court at a beginning, intermediate, and advanced level. So that you can enjoy your big day without stress, give yourself plenty of time to learn the choreography and practice!
It's a smart idea to start at least two months before the big day. You can book a Free Quinceañera dance consultation in Los Angeles, anywhere in California, or via Zoom across the United States.
You can rely on us.  Our first step is to meet with parents and the honoree to choose music, and the dance styles and schedule practice time. Let us professionals do the grunt work.
Learn. Practice. Repeat. Our 1 to 2 hour-long quinceañera practices prepare you and your group for the main event. Plus, we have a bit of fun along the way.
Hire Los Angeles Quinceañera Dance Instructors Near You That You Can Trust
Dance Engagements is a nonprofit dance company that custom-choreographs professional, creative, entertaining, fun, and affordable dance routines for special events. Our nationally-recognized dance instructors offer unique packages to help the Quinceañera and her court prepare for her special occasion.
Dance Engagements creates a specially choreographed masterpiece to celebrate the occasion. After la Quinceañera gives us her thoughts and ideas, we take care of the rest. This is done fun and exciting, creating a memory that won't soon be forgotten.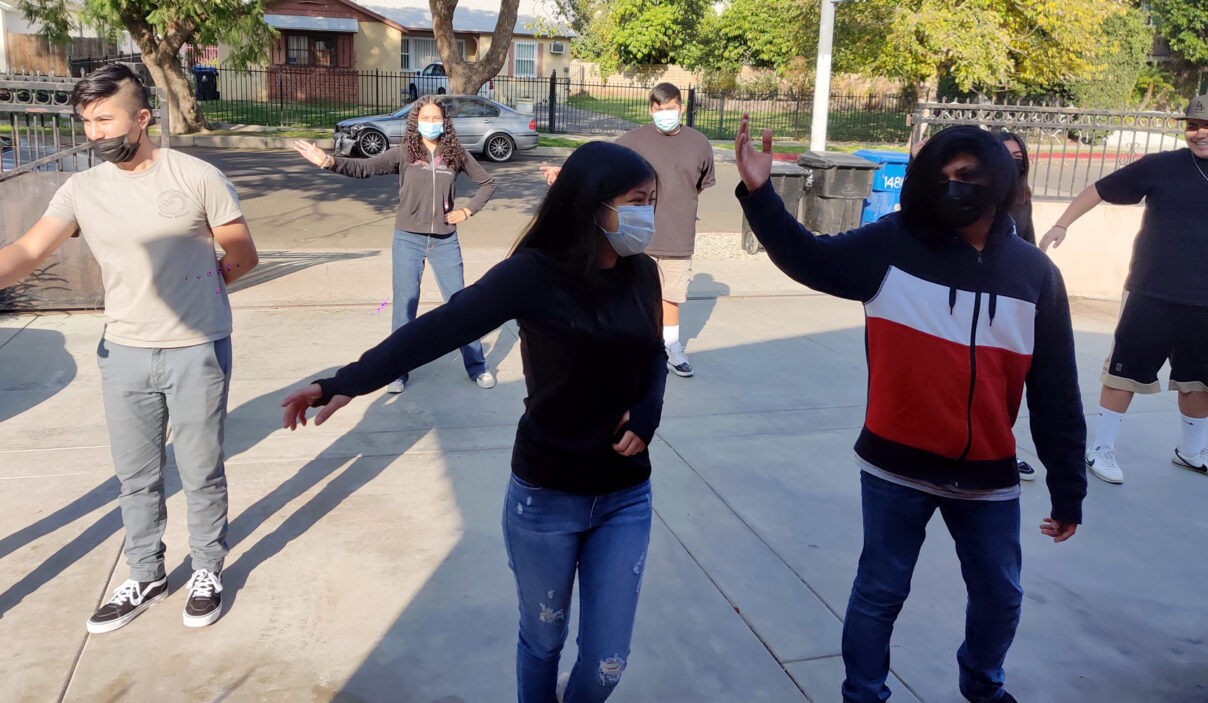 Quinceañeras (also commonly known as Sweet 15's) are milestones and fun times in a young lady's life. Dance Engagements can customize a routine to match her preferences and needs. Working with a single partner or a large group is our specialty. Let us help create an unforgettable dance routine for the special birthday girl or boy and their special friends.
OUR LOS ANGELES QUINCEAÑERA CHOREOGRAPHERS HELP WITH:
Entrance / Exit / Presentation
Planning based on the layout of the venue
Custom-tailored choreography
Lessons can be scheduled at any time to fit your needs
Selection of music  (Professional music editing is included – a $199 value)
Two to three months of practice *Recommended
Daddy-Daughter Dances
Group Waltz  (Quinceañera Valz)
Surprise DanceS
Chambelan Dances
The Mother-Son Dances
No limit on the number of court members
We serve Los Angeles and all of Southern California. *Fee may apply
Associated costs with our services.
Fees associated with travel:  Depending on where your rehearsals and banquet hall are located, a travel fee may be added to your Quinceañera choreography package.
Deposit –  We require a $300 non-refundable retainer when booking our nationally-recognized Los Angeles quinceañera dance choreography instructors. This retainer will be applied toward your total payment. Please let us know if any of these packages do not meet your needs, and we'll be happy to customize one for you.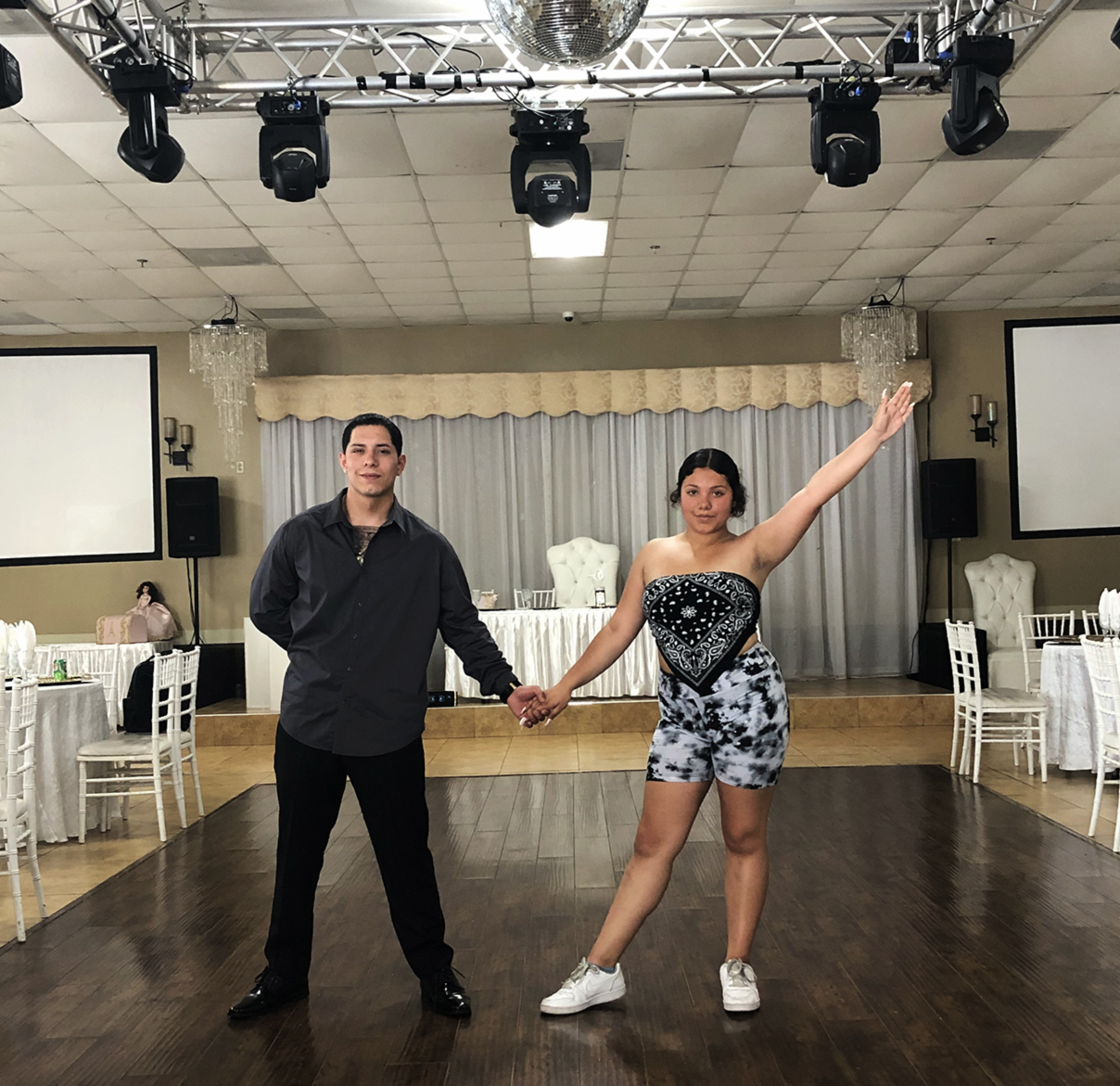 How Quinceañera Parties Typically Work
Quinceañera celebrations today are usually lavish parties with many guests. They are similar to weddings in many ways. Quinceañera planning begins early, and the girl's family and godparents save money for the party until she is old enough. Preparation can take up to two years.
Quinceañeras are essentially centered around dance. The dances included in Quinceañeras must be learned and prepared to be performed in front of guests. Apart from special dances such as the Father-Daughter Dance, the Waltz group dance, and the Surprise dance, celebrants and guests often dance to Salsa, Cumbia, Bachata, Reggaeton, Cha-Cha, Merengue, Bolero, and Rumba.
One of the most popular quinceañera traditions is the Waltz, an elegant, choreographed dance performed by the birthday girl and her court. Additionally, if it is the first dance of the celebration, the Quinceañera will be partnered with her father. The choreographed dance typically requires months of planning and several rehearsals. A professional Quinceañera dance choreographer may also be hired as a guide during the before the party, and during the performance.
Go ahead and REACH OUT to one of our quinceanera dance choreographers for a free phone consultation. We're happy to answer any questions you may have!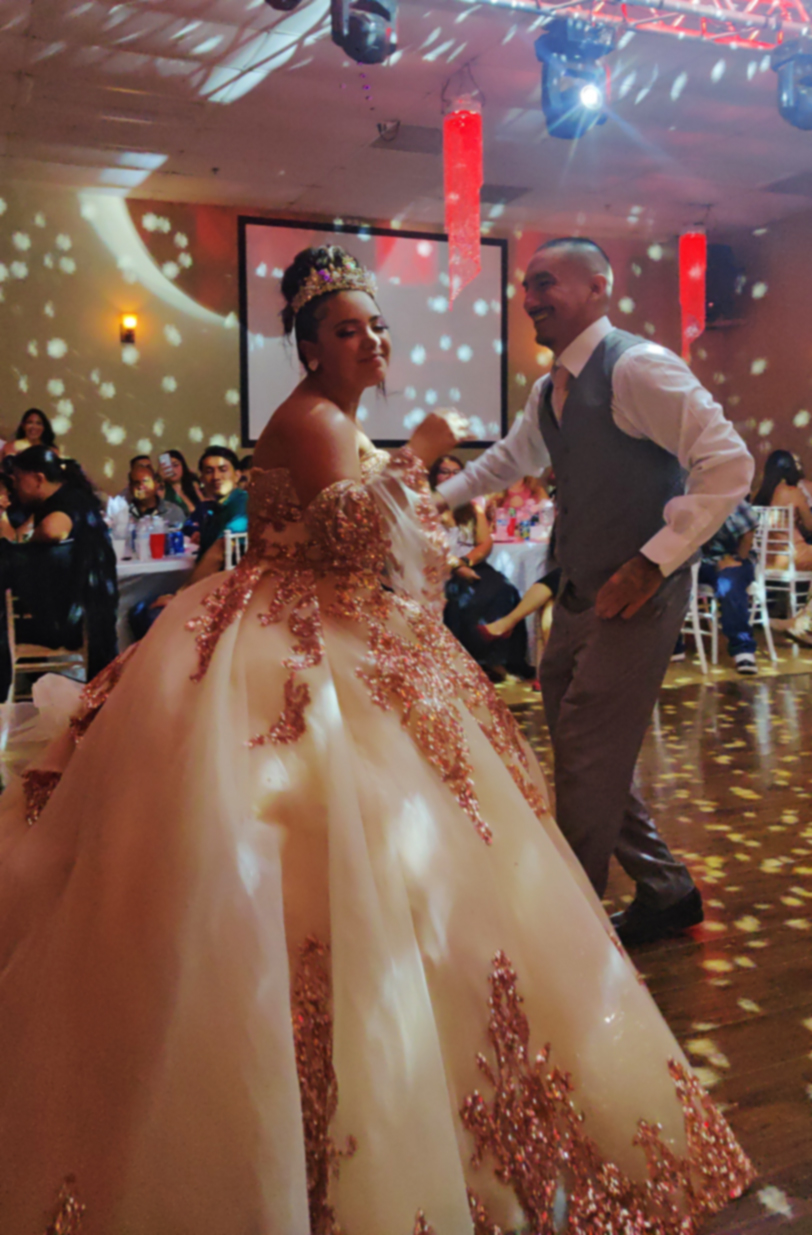 Mother/Daddy-Daughter Dance Lessons for Quinceañeras in Los Angeles
Traditionally, a quinceañera's first dance is with her father or mother. It is still customary for a father/mother and daughter to dance during the Quinceañera. Performing it with her mom or dad continues to be one of the most emotional parts of the Quinceañera celebration because it represents the birthday girl's first dance as a young woman. Sometimes, an older male who served as a father figure will dance if the father isn't available. The dance is traditionally a waltz.
Fathers often use this opportunity to encourage their daughters as they take their first steps into womanhood. It is usually choreographed to a song chosen by the father or mother that holds special meaning for them. It is also traditionally the first dance a girl performs in public. The father or mother can turn over the Quinceañeras to her escort at that time.
Chambelan-Dance Choreography Services
Quinceañeras chambelanes (or the birthday girl's escort) will ask the father for permission to dance with the birthday girl after the father and daughter dance. For chambelanes, the Waltz (Vals) is a traditional dance when they dance with the quinceañera to be.
The main chambelan at a Quinceañera is usually a brother, cousin, or close relative. He may also have been her childhood friend, a classmate at school, or a neighbor. The principal chambelan is usually someone close to the Quinceañera. She will feel comfortable with him around at all times because of this. Trust and communication enable them to describe their preferences. The Chambelan needs to be reliable and able to attend the dance rehearsals.

Common Questions & Answers About our Services for Quinceañera Choreography in Los Angeles
What is the ideal number of lessons? You should be able to learn the choreography for a Father-Daughter Dance that is approximately 3 minutes long in two to four hours. To learn the Waltz and Surprise Dance choreography for a Quinceañera/Royal-Court Dance (around 3.5 to 5 minutes), we recommend at least 8-12 hours of training.
We spend most of our time learning eye-catching, fun moves that show off the Father-Daughter and the Quinceañera and her court and add magic to your song choices. We spend the remaining time practicing and polishing it. We want you to look amazing. It is our signature that is out there when you perform our routines!
Keep in mind that the longer the song mix, the longer you will have to dance, and the more you will need to practice.
When should I begin learning the Quinceañera choreography?
Don't wait until the last minute! Start learning as soon as possible. From experience, you should look for a Quinceanera Choreographer in Los Angeles near you at least two months before the event. The ideal time to have your choreography completed and ready is at least seven days before your special day.
It would be best to consider holidays, special days, and other events that your court participants may be involved in when arranging your quinceañera training timeline. A parent should also make sure that the royal court is engaged and committed to attending lessons.
What is the cost of hiring a choreographer for a quinceañera?
You should also remember that most Los Angeles quinceañera choreographers tend to charge $35-$60 per hour, and professional ones, even more. Typically, three of the dances are choreographed by a professional dance instructor or dance company. This averages out to roughly 20+ hours of practice for a few months, so you could pay anywhere from $700-$1200, minimum.
How many Damas do you need for your quinceanera?
A Quinceañera's Court of Honor is one of its most important elements. Traditionally there are 14 girls or damas and 14 boys, or chambelanes, who are the Quinceañera's closest friends or family, and they join together to waltz.
What dances are performed at quinceaneras?
The Quinceanera celebration usually includes three dances: the Group Waltz (el Vals), the Father/Daughter Dance (baile de Padre y Hija), and the Surprise Dance (baile de Sorpresa).
---