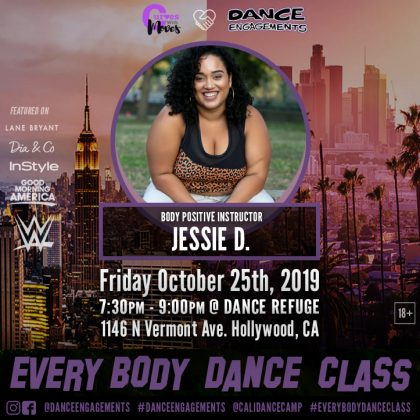 Body Positive Dance Class: Los Angeles Collaboration
I'll be the Guest Choreographer with Dance Engagements for an amazing collaboration. #EverybodyDanceClass is an open level for 18+ inexperienced dancers, who like/ want to dance but maybe intimidated to take a class. At Everybody Dance Class, we offer a safe non- judgmental environment, where everybody is welcome.
This is a donation-based class, so all funds raised help the underserved youth of Los Angeles attend Cali Dance Camp 2019. For more on CDC, please visit www.CaliDanceCamp.com
Please RSVP to reserve a spot (limited space) and pay what you wish at the door. If you cannot make it but want to support this company and what they do, please buy a donation ticket!
Register
Date And Time
Location
Dance Refuge
1146 North Vermont Avenue
Los Angeles, CA 90029
View Map