Learning How To Dance
When everyone else at a party is having a good time on the dance floor, do you wish you could join them? Do you have an upcoming event where you'll need to move to the music, but you have two left feet? Don't let your lack of self-confidence interfere with you having fun; we can help you boost your confidence in your dance skills! 
Dance is a skill that can be used in a variety of situations. You can use it both in a workout routine and in the club. Many people learn to dance in studios. However, anyone may learn to dance at home thanks to the internet's abundance of resources, such as videos and online communities that provide encouragement and support.
You can learn to dance freestyle, do a slow romantic dance, or surprise your family and friends on the dance floor at the next family wedding by mastering a few simple routines.
A Helpful Step By Step Guide on How To Dance in Your Own Home 
Do you want your dancing skills to improve significantly? Here are a few things you can do in your own home to help increase your dancing prowess: 
Select a style 
Determine the type of dance you wish to learn before you begin. Ballet, jazz, hip hop, and other individual dance forms are also available. Meanwhile, ballroom and salsa can be used by couples. It will be easier to find the best resources if you know what type you're interested in before you begin.
Decide on a technique or routine. 
Next, pick if you want to learn the fundamentals or a specific dance. Most dance forms contain basic motions that dancers continuously rehearse to improve their stamina, flexibility, and technique. On the other hand, some people may prefer to learn a specific dance, such as Lil Uzi Vert's Futsal Shuffle, rather than simply working on the fundamentals of dancing.
Find the right video. 
Now, it's time to find the right video that can effectively teach you the dance. There are many instructional videos available from professional dancers, teachers, musicians, and amateurs. The internet is full of websites that offer lessons, tutorials, and advice for aspiring dancers, some of which are free and others that require a fee. If you're looking for a technique class, type "hip hop dance class" into your search bar.
If you want to learn a more specific dance, try to type the name of the dance with the word "tutorial" next to it on Google. For example, "Ballroom dance tutorial."  Usually, the top results on Google are the ideal to try first. 
Don't forget to warm up first. 
Some rookies tend to skip this important step and think it's unimportant. But, warming up can help you perform better. Jogging in place will get your heart rate up, and your muscles warmed up. To loosen yourself, perform simple stretches like touching your toes and opening your hips. Before you start dancing, do some exercises to loosen up your muscles and increase your range of motion.
Do the lesson
Dance the night away! Start moving after you've started the video! For smart TVs, have the remote handy so that you may pause and replay any steps that you may have forgotten. For the same reason, keep your phone or laptop close by when you're using it. Some routines may take longer to learn than others, so don't be afraid to go over the same part or step multiple times.
If you want to see how you look, practice the moves next to your video in front of a mirror.
Practice makes perfect 
Experts say that to be good at something; you should put at least 10,000 hours into it. You don't have to follow this, but it's important to keep practicing every day to improve your skills. Practice with the same video and fresh videos from different instructors. As you continue to work on it, you'll see results.

Which Type Of Dance Should I Learn First? 
Are you feeling confused and overwhelmed about where to start? Dancing shouldn't feel like a chore; it should be fun! Don't stress out too much over the fundamentals. Take the time to learn them, and remember to show them off to your friends and have fun. 
When choosing which type of dance to learn first, consider these: Ballet, jazz, or hip hop. Even hip hop incorporates some ballet vocabulary, so it could be a good idea for beginners to first brush up on the basics.
These two disciplines are also foundational, with jazz being a foundation of modern dance and hip hop being the inspiration for many popular, urban, and music video dances. To help you get started, we've compiled a list of some of the most popular dance styles. That's exactly what I was going for, then. Keep in mind that there are hundreds of different dance forms out there, and one of them will be perfect for you!
Here's a list of the most common dances you can choose from: 
Ballet

Jazz

Hip hop

Contemporary

Lyrical

Breaking

Ballroom

Bollywood

Tap

African dance

Latin dance

Swing dance

Flamenco
Things To Remember When Learning How to Dance 
Don't Obsess Over What Strangers Think About Your Dance.
Although taking criticism is important in improving your dance, it's important to note that constructive criticism is different from insults. Try not to waste mental energy worrying about how strangers are judging you. It's easier said than done. As a result of their lack of confidence, people will sneer and point at people who are dancing. The ordinary dancer is also more concerned with their appearance than anything else.
Learn When To Tone-Down Your Moves 
Some beginners tend to overexert their energy in their dance routine, and they end up looking less coordinated. Nothing is worse than looking like you're trying too hard. As long as you're not overdoing it, you don't need to perform new movements in front of the crowd constantly. To dance in a simple, repetitive manner and simply enjoy the presence of your friends is perfectly acceptable.
Develop a solid foundation of dancing skills.
While viewing a movie or TV show set at a nightclub, it's common to see the extras dancing blandly in the background. Having a "solid foundation" of dancing skills looks like. If you know how to do it, then that's all you need in many cases. However, you can subsequently expand upon your foundation and create a more elaborate aesthetic if you like.
If you're looking to add a little something more to your dance routine, there are a few things you can do: 
Don't just limply swing your arms; get your shoulders into it.

You can walk to one side or the other or go back and forth.

Make a variety of arm motions.

Just a nod of the head is all it takes.

Make small pivots or twists with either your right or left foot.

Do not just rotate your body or move it back and forth or from one side to the other; instead, keep your torso in a straight line.

Step one foot forward, then the other, as if you were marching. Just a little foot movement is required; avoid looking like a robot.

Try a variety of different arm, torso, and leg positions. Find a combination that looks good and stick with it for a while before switching to another. Changing things up every half a second is not how to keep things fresh. That's a little bit disjointed.
The Best Places to Learn Dance Skills
Busting out basic dance moves is OK, but it won't make you stand out. If you want to make a big impression, you can start incorporating some pre-made routines or sequences of moves into your performance. It's more of a "Risk vs. Reward" situation. Additionally, you will need to put in the extra effort. Generative dancing is both safer and simpler. If you attempt to pull off an impressive routine and fail to get it off, you'll appear dumb or goofy. If you want to appear your best, you'll need to work.
The following are some good places to pick up some new moves:
By seeing strangers dancing in a club and copying their moves

Watching your buddies have fun dancing

Watching movies or music videos

Using video tutorials on the internet

In the form of video games that focus on dance.

The only way to learn new moves is to experiment and develop your own.

Taking a real-world course.
The internet is a wonderful place to learn how to dance too.
So many resources are available for people to master dance at home. Consider these great learn-to-dance-at-home resources to get started.
Paid Options
Are you looking for an affordable way to get technical guidance? You might want to try private dance classes from our expert dance instructors. Dance Engagements offers customized tuition plans to suit each student's personal needs. Our globally recognized Los Angeles dance company is an award-winning nonprofit organization composed of extremely talented performers, and more importantly, we love to teach and promote our passion for the art of dance.
Free Options 
If you currently don't have the budget to invest in your dancing skills, here are some websites you can check out: 
YouTube: YouTube is an excellent place to start to find dance class videos if you're still working out the genres you're interested in learning.
Vimeo: There are a lot of amateur dancers that use Vimeo because of how creative the content is there. 
Twitch: Although Twitch is relatively new compared to Youtube and Vimeo, it's still a solid competitor for the two video-sharing websites. You can find some content creators on Twitch that focus on teaching basic dance.
The best method to learn how to dance is by consistently practicing. Practicing at home while listening to music is a great way to learn how to dance. It will only become better with practice, so don't rush it.
Put on some decent music and practice your basic dance moves in front of a mirror. Consciously reduce your natural tendency to jitter about or be a little giddy. First, become familiar with the standard, uninteresting style of dance.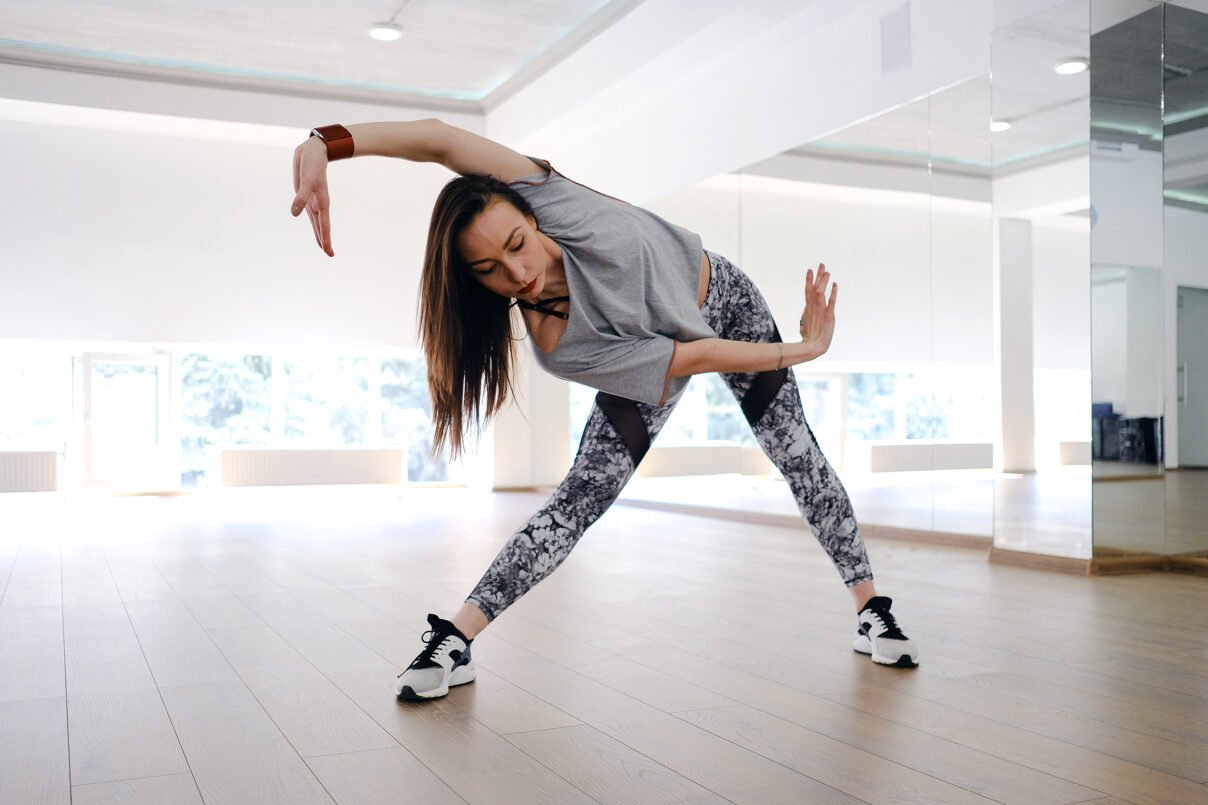 How To Dance Different Kinds of Ways: A Step by Step Guide 
Freestyle Dancing 
Swing your hips to the beat. Begin by listening to the music's pulse. If it doesn't work, you can count, click, or clap along with the music. As soon as you've worked out the tempo, start bobbing your head to it.
It will be easier for you to move your body once you have your head moving.

The drums and the bass can help you locate the rhythm. The beat of these instruments frequently carries the rhythm of a song.
Listen to music with a clear and distinct beat to figure out the song's tempo. Try clapping and moving to the beat of a song.
Shift your weight from one foot to the other and dance to the music. You can begin introducing simple footwork once you have a decent feel for the beat. Put all of your weight on one foot and lift the other to get started. Take your weight off the other foot by lifting it just a little bit. Respond to the music by swaying from side to side.
During every other count, completely shift your weight to the opposite foot. It's possible to dance faster by shifting your weight at each count, but it's easier to become used to dancing faster if you begin slowly.

Maintain a slightly bent-knee position with your legs. Whenever you adjust your weight, there should be a slight "bounce," and when you aren't transferring your weight, there should be a slight bounce (in place).
Dance to the music. Moving your feet is the next step after mastering shifting your weight in time with the music. Even if it's just 1–2 inches (2.5–5.1 cm) from where it was before you shift your weight to afoot, do it. Keep your foot close to the ground when you move it.
To move and bounce, keep your weight on your toes.

It's important to keep your partner in mind when dancing with someone else.
Try moving your hips. Your hips and body should move slightly in the direction of the foot you are putting your weight on. To shift your weight to your right foot, move your hips to the right. To increase the amount of movement, you might make a tiny twist in your body.
For example, put your right shoulder slightly forward and your left shoulder slightly back while moving to the left. When you make a left turn, the opposite should be done.
Add some arm movements to your dance! Keep your arms close, or let them hang limp if you're uncomfortable. Instead, alternate the movements of your arms. Hold your hands wide open or in very loose fists at all times. Arms in the air are OK, but bending at the elbows and holding arms by their sides while jogging is also an option. Make sure you don't become bogged down in one particular strategy; instead, swap things up! Here are some other options to consider: 
Your arm and hand should shake like you're shaking two dice for the roll. 'Roll' the dice after several shakes. Do not use this move so frequently that it becomes a joke.

Pretend you're mowing your lawn. Bend forward and pull your hand back as if you're pulling on the starter of an imaginary lawnmower with one hand. While you're mowing the lawn, you can take a few steps.

Make the air lasso move. Imagine that you're going to rope a cow with an imagined lasso, then swing it above your head like you are. Put your weight on foot on the other side of your "lasso hand" and drive your hips in the opposite direction of where your weight is now.

Make a fist pump. Pump your fist in the air as a way of showing your appreciation.
Embrace your individuality. When you're dancing freestyle, follow your instincts. The more you practice the rhythm, the more natural your movements will become. It's tempting to think you're only proficient at one technique. Listening to music's subtlety can also help you learn how to move your body. What's important is that you try to think outside the box. It's simple to develop your dance moves if you have self-confidence and a good grasp of your body mechanics.
Don't be afraid to experiment. Dance in a variety of positions, speeds, and motions.

Get creative and make your own decisions. In freestyle, the emphasis is on spontaneity and uniqueness of expression.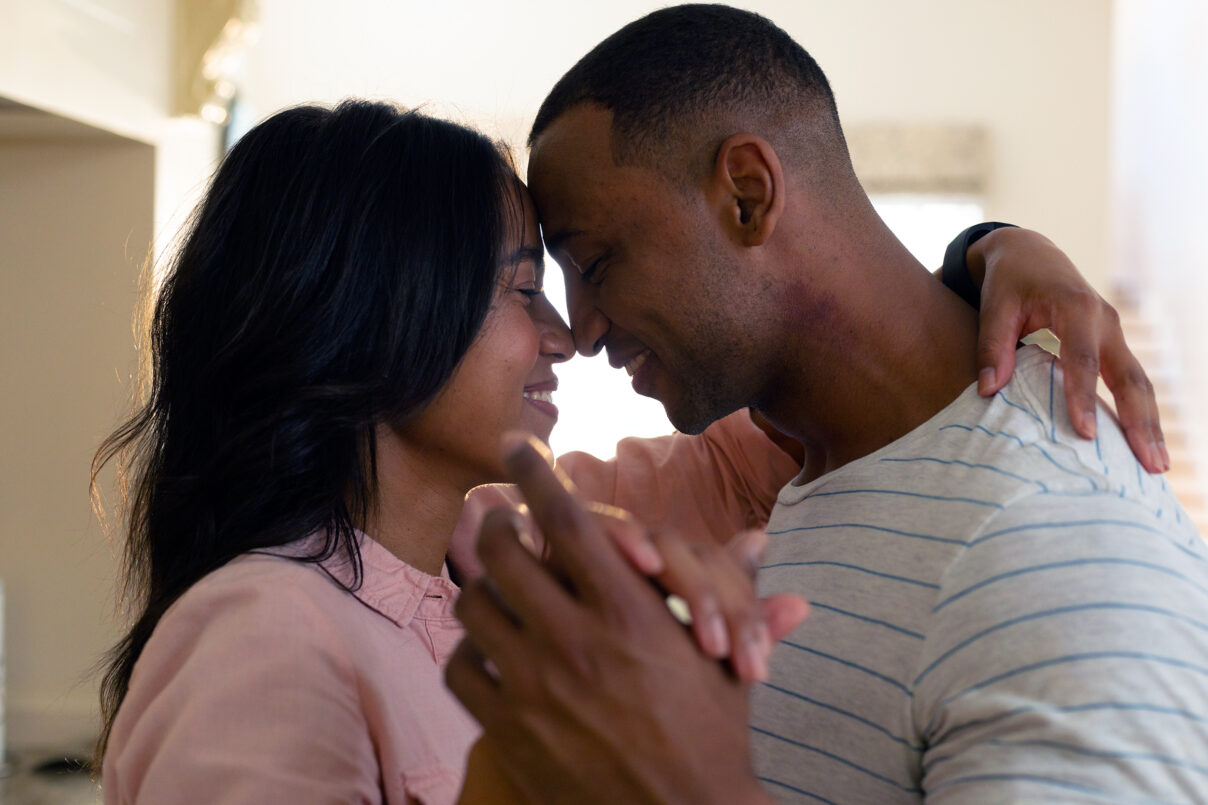 Slow Dancing With a Partner 
The first step is to get into a position with your partner. Don't be shy and stand face to face. As the leader, place your right hand on your partner's shoulder blade and clasp your left hand around their right in a C form. Your partner's left hand will be placed on your right shoulder.
It's up to you whether or not you want to keep your hands clasped at eye or waist level. Don't raise your partner's shoulder with your elbows, and keep them relaxed.

The distance between you and your partner should be between 3 and 6 inches (7.6 and 15.2 cm).

Make sure you and your partner are on the same page about who is in charge before starting!
For a slow dance, it's customary for a man to lead the way. However, you are under no obligation to follow this established procedure. You and your partner can decide who should lead based on confidence, height, or other factors. You and your partner can decide who should lead.
Step to the left with your left foot. Glide your left foot out of the way as soon as you're ready to begin dancing. Your partner's right foot will mirror yours. The initial step of the "step-touch" slow dancing movement is seen here.
As long as your spouse is in charge, allow them to take the first step, but do your best to keep up with them.

Make an effort to sync your steps to the music's tempo. Counting along to music while you meditate may be beneficial.
Your right foot should meet your left foot at this point. The first step should be taken with your left foot, and then your right foot should be slipped over to meet the left. Your companion should replicate this movement.
Make sure you don't jump or flop when you bring your feet together. You should aim for a fluid, gliding motion.
Reverse the direction of your footwork. Your right foot should now step to the right after stepping together with your left foot. Step across with your left foot and meet your right foot. The rest of the dance should follow the same pattern like this one.
It's possible to take two steps to the left and two steps to the right.
Move around by steering your partner with your hands. Using your hands gently push or pull your partner in the direction you'd like to go is an effective way to navigate the dance floor. As you step out to the next beat, simultaneously push and pull with one foot once you've touched them together.
Start by bringing your right foot to meet your left if you're stepping left but wish to pivot to the right. Then, while tugging gently on your partner's shoulder with your right hand, push their right hand with your left hand and step to the left simultaneously.
How To Dance at a Wedding
Let loose with some chicken dance moves. Many wedding receptions feature the Chicken Dance. You only need to learn three basic techniques that you switch up to match the song's beat. You don't have to worry about making a mistake because no one cares. To perform a chicken strut is to:
Make the shape of a chicken's beak by raising your arms to shoulder height and lining your thumbs and index fingers together to form the shape. You can mimic the sound of a chicken clucking by moving your thumbs up and down.

Then, as if you had wings, curl up your hands and tuck them beneath your arms. The music is playing, and you should flap your wings in sync.

The only difference is that instead of sticking your wings straight out in front, you'll be bending your knees and wriggling your bottom down toward the floor.

Repeat these actions as many times as necessary to complete the song.
You might need to learn how to dance the Hora for Jewish weddings. Many traditional Jewish wedding receptions feature a hora dance to the tune of "Hava Nagila" or other Jewish standards. The hora is a simple pattern of grapevine-style dancing:
Step across to the right with your left foot. Put your right foot down and let the left follow. Step with the left foot in front of the right. Continue to the right this time.

Dancing in a circular formation, participants either hold hands or place their arms around the shoulders of one another.

This dance is typically performed at a fast tempo. It's not uncommon for a song to start slowly before picking up speed toward the end.
For the Dollar Dance, stick to slow, simple moves. Guests can dance with the newlyweds for a dollar (or more) at some weddings. You can utilize basic slow dance moves for this dance, but it's not about the moves; it's about spending a few moments with the merrier to express your enthusiasm for the couple and compliment the wedding ceremony and reception.
Holding on and merely swaying in place is entirely appropriate if it makes it easier to have a personal chat.
What To Do To Get All the Right Moves
Attend a dance class to master some fundamental skills. There are dance classes for every form of dancing, from hip-hop to ballet, break dancing to salsa. Search online for the classes in your region. Whatever form of dance you're interested in, you might benefit from a ballroom dancing class as the steps of many other dance genres have their roots in some ballroom basics.
When being taught a routine, look at what the teacher is doing. Aim to replicate it verbatim. If that doesn't work, re-observe the teacher to see what they do that does.

Ask for advice from your instructor if you need it. Instructors with a wealth of knowledge and experience working with a diverse range of students are well-positioned to assist you in overcoming any challenges you may be facing.

An hour or two of class can teach you the fundamentals and give you more self-assurance.
Join a flash mob to increase your confidence. Flash mobs are spontaneous public performances; this type of dance comes seemingly out of nowhere and then dissipates quickly. Even though these dance performances may seem spontaneous, they are prepared ahead of time, and participants usually practice rigorously. You can find flash mobs online, join them for a several-week practice period as the group learns a dance, and then perform with the mob in public.
Several flash mobs post instructional videos online to learn and rehearse the intended dance.

Anyone can join a flash mob because the goal is to have a good time and create a happy atmosphere; therefore, the more people join, the better.

You'll also learn some cool dance moves and meet new people who like to dance.
Get ideas for your dance by watching it on TV. It's easy to see why dancing is so popular by turning on the television. Try tuning in to reality television dance competition shows. It may be difficult to keep your mind on the process. As an alternative, note how carefree and self-assured the dancers are and how much fun they appear to be having on the dance floor.
Dancing with the Stars and So You Think You Can Dancing are two popular dance competition series you can watch. 
For inspiration, watch an old dance film. There are so many dance movies to pick from. See as many as you can, or pick and select those that speak to your special interests. For example:
Check out Dirty Dancing or Shall We Dance to observe two dance novices build confidence and grace and learn to perform with flair.

You can see how dance can be a means of protest against oppressive authority figures and difficult personal circumstances in films like Footloose and Flashdance.

Rent anything starring Fred Astaire and Ginger Rogers to be inspired by the beauty and elegance of these iconic dance partners.

The Nicholas Brothers explore the boundaries of tap dancing in Stormy Weather.
Compete in a dance competition to enhance, challenge yourself, and push your abilities. You can join many different dance competitions; one popular DanceSport event is ballroom dancing. 
Taking part in a dance competition can help you set clear goals and push you to improve your skills.

Check out websites like the International Grand Ball, the United States Dance Championships, and the Access Dance Network, just to name a few.

How To Dress For a Dance Performance 
Make sure you wear comfortable shoes when dancing. Shoes with a flexible and thin sole should be worn on the dance floor and should be well-fitting. Platform shoes should be avoided since their thick soles and heels make it impossible to sense the ground beneath your feet. Also, check to see if your shoes are snug on your feet. Backless sandals are better left at home. To glide your feet easily over the dance floor, avoid wearing sneakers or other shoes with rubbery or sticky soles when ballroom dancing.
Find out what kind of dance shoes you'll need for your preferred style of dancing by doing some study. For example, sneakers are fantastic for hip hop or freestyle dancing, while heels are ideal for Latin dance forms.
Be ready for the heat. When it comes to clothing, natural fibers are best if you tend to sweat. If you're asked to dance in a tank top or halter top, your sweaty or damp skin could be a turn-off. Keep a few moist towelettes and a small powder container in your purse or pocket for quick freshening.
Wearing silk, for example, is a bad idea if you're dancing with a partner. If your partner's hands start to sweat, it may be difficult for them to hold on to you.
Wear clothes that give you enough movement. Tight satin may look and feel amazing while not moving much, but it may restrict your movements on the dance floor. The worst-case scenario is that you'll get a rip in public. Choose garments that are either loose enough to let you move or stretchy enough to move with your body. Select a top with sleeves that don't impede your arm movement—you should be able to lift your arms above your head.
It's often a good idea to practice dancing in your attire before leaving the house.

Make sure your clothes are well-fitting and won't fall if you get a lot of exercise.