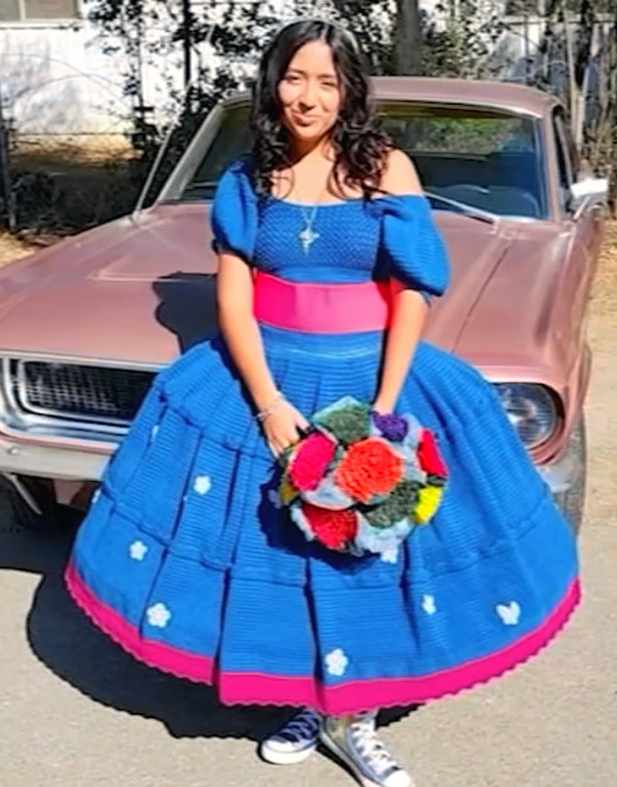 Noemi Mendez, a 15-year-old girl from Riverside County, California, has been practicing crocheting over the past two years by making custom dolls & stuffed animals for her family and friends in an effort to perfect her craft.
She decided to take on a new and bigger project in January 2022. This was because she was trying to plan for her 15th birthday in September, so she decided to do something more ambitious. "I decided to crochet my quinceañera dress," said Mendez.
Quinceaneras are known as a Hispanic rite of passage.
Quinceaneras takes place on a girl's 15th birthday, symbolizing her transition from being a girl into becoming a woman.
Traditionally, Quinceanera day is marked with a church service, followed by a lavish celebration with family and friends, including traditional dances, dishes, music, and dishes related to the event.
"It is a beautiful tradition in our culture. So, I was excited when she decided she wanted to have a quinceañera," said Daisy Hernandez, Mendez's mother.
With the help of her mother, Mendez started crocheting her Quinceanera dress right away. The self-taught teenager wasn't sure the dress she was making would turn out the way she wanted, but she continued regardless.
"If you think you can, I believe you can, and if for some reason it doesn't work out, we'll just buy one," Hernandez said. "I am very proud of her for accomplishing that."
She documented her journey on her Instagram account, showing her work hours putting her steel blue dress into shape and showing her struggles to achieve her goal. In addition to the magenta piping, she also added butterflies and flowers to the skirt to add a pop of color to the dress.
The detailed process took months to complete.
"I crocheted for one week, and then I took two months off but then if I were to add it all together, I would probably would say I took around four months to crochet this dress," said Mendez.
Noemi celebrated her quinceanera with family and friends on September 24th, 2022, when she also unveiled her creation to her loved ones. She hopes the dress will become part of her family's tradition one day.
"It's special to me," the teenager said. "Like if I was to have a child someday, I could give it to my daughter if she wants it."
MEDIA SOURCE: K-ABC7
ARE YOU LOOKING FOR A QUINCEAÑERA DANCE INSTRUCTOR NEAR YOU?
Dance Engagements is a nonprofit dance company in Los Angeles that professionally choreographs creative, entertaining, fun, and affordable dance performances for Quinceañeras and other special events. Our globally-recognized dance company offers unique packages to help any Quinceañera and her court prepare for her special occasion.
Our Los Angeles-based quinceanera dance instructors can customize a routine to match her preferences and needs for the big day. After la Quinceañera gives us her thoughts and ideas, we take care of the rest in a fun and exciting way that creates lifelong memories. We work well with  a single partner or a large groups!
Let us help create an unforgettable dance routine for you on your big day. Send us a message online, follow us on Instagram or just fill out our Quinceanera Service Request form here.
OUR QUINCEANERA CHOREOGRAPHERS HELP YOU WITH:
Entrance / Exit / Presentation
The layout of the venue
Selection of music
Creating choreography
Dance lessons can be scheduled at any time to fit your needs.
A selection of music
Two to three months of practice *Recommended
Daddy-Daughter Dances
Group Waltz  (Vals)
Surprise Dance
Chambelan Dances
The Mother-Son Dances
No limit on the number of court members
Music editing is included in all packages – a $199 value.